Today's youth is burdened with not only living during a global pandemic, but also growing up in it. The coronavirus doesn't target children directly. However, many kids and young adults are experiencing the mental health consequences of the COVID-19 era.
The Pandemic's Overall Impact
The Centers for Disease Control and Prevention lists a number of challenges children and teens face during the pandemic. Changes in their routines, such as having to physically distance from others, can cause increased feelings of loneliness and depression.
A November report by the CDC states that the amount of child visits to emergency departments for mental health-related issues increased at the beginning of April 2020 and remained elevated through October. Compared to 2019, "the proportion of mental health related visits for children aged 5–11 and 12–17 years increased approximately 24% and 31%, respectively."
According to the Organization for Economic Cooperation and Development, The U.S. has one of the highest rates of child poverty in the developed world. Economic insecurity within households further increased during the pandemic, as a result of unemployment and loss in wages. This resulted in the inability for children to access healthy foods, safe transportation, and housing. This lack of security and safety negatively impacts their development, academic achievement, and overall health.
Disconnected From School
"Class of COVID-19" is a special series by Florida Public Media. It explores the high costs of the pandemic for those who already faced obstacles to succeed in school.
In addition, NPR reports that roughly 6% of U.S. children are living with serious emotional or behavioral difficulties. This includes children with autism, severe anxiety, depression and trauma-related mental health conditions. These children depend on schools for access to vital therapies. Many kids lost access to their support network and key resources during shutdowns.
Ann Siegel, the legal director of the advocacy group Disability Rights Florida, told Florida Public Media that the organization is "pushing schools to provide double or triple the amount of services to students who lost out on them." Siegel added that parents have seen their children regress as a result of losing in-person classes. "I know some of our families are very concerned that their children will never regain the skills that they've lost."
Stunting Child Development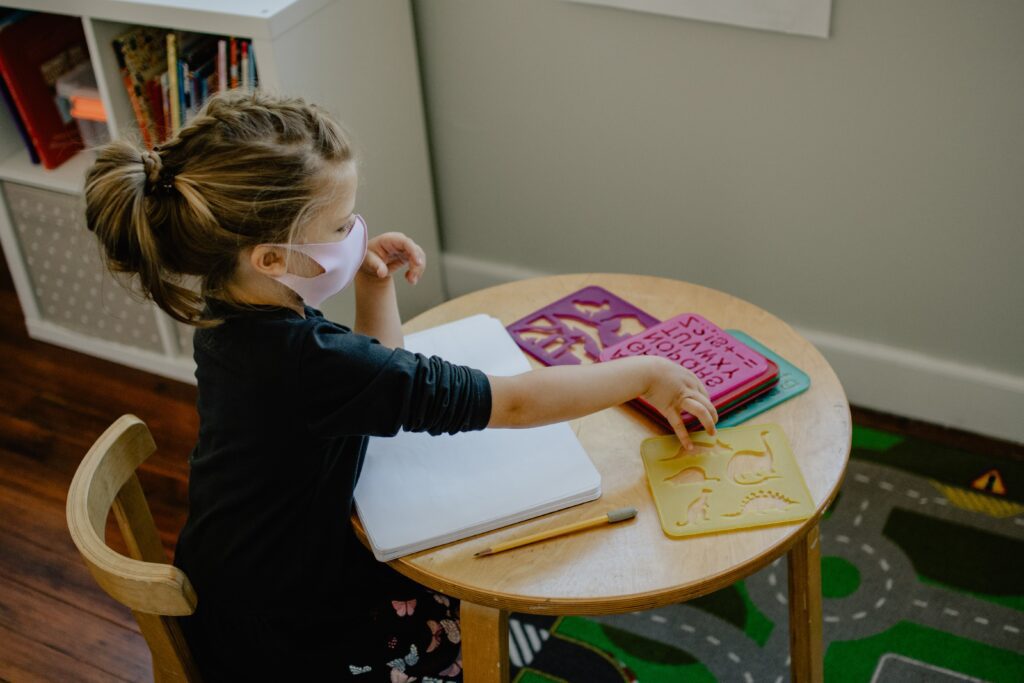 Childcare programs have closed or adapted social distancing measures, causing many children to miss out on opportunities for development. On the Direct Relief podcast, Dr. Michelle Aguilar, the head of pediatrics at Venice Family Clinic in Los Angeles, said "children are not getting the cognitive and social stimulation that they would normally get outside their home." Providers have also seen delays in speech and language within this age group.
The podcast discusses how during early childhood, kids learn how to share and work together. But parents and teachers are now encouraging children to prioritize maintaining social distance. Some children will struggle learning to share and work together later on after the pandemic.
Listen to the full podcast:
Teenage Years Restricted
Depression becomes more prevalent during the teenage years, and has only been exacerbated by the pandemic. The Washington Post reports that adolescent psychologists are "reporting a dramatic influx in therapy inquiries and waitlists for inpatient psychiatric wards across the country."
The pandemic has forced teens to be away from school and friends. That physical distance can make them feel as if their life is on hold, while still missing out on important milestones. These include birthdays, graduations and school events. The CDC says the feeling of grief is a normal response to losing something important. The institute encourages family and friends to help teens "find alternate, creative and safe ways to connect and support each other at a distance."
Finding The Right Resources
The CDC recommends parents monitor their children for cues that suggest changes in their mental health. Promoting coping and resilience, along with expanding access to mental health services, are critical during the COVID-19 pandemic.

The CDC offers a COVID-19 Parental Resources Kit, which is divided into different age groups, ranging from early childhood to young adulthood. The kit includes resources for immediate help during a crisis, as well as how to find a healthcare provider for substance use disorder and mental health treatments.
To read additional relevant topics on mental health, check out our blog's main page.
Written by Natalia Clement for medez.com