May is Mental Health Awareness Month — a month filled with advocating for a variety of mental health issues. Since last week's focus was children's mental health, we're sharing tips on making kids feel safe, confident and healthy.
Making Them Feel Safe
Creating a sense of safety — both emotionally and physically — is vital for kids' mental health.  According to the National Association of School Psychologists, feeling connected and welcomed allows children to build their self-identification and develop trust. Parents and teachers should foster the feeling of belonging, both at home and in schools.
NASP also recommends supporting children's mental health by teaching them social skills, problem solving, and conflict resolution. The organization encourages adults to provide kids with feedback that validates and reinforces positive behaviors. This can be done by establishing easy-to-understand rules and promoting teamwork and kindness.
Learning isn't only for kids — adults have to educate themselves as well. It is important to know the symptoms of mental health problems, as well as how to properly address them. Relying on the correct information "helps break down the stigma … and enables adults and [kids] to recognize when to seek help." Here's Mayo Clinic's guide on knowing the signs of mental illness in children.
Making Them Believe In Themselves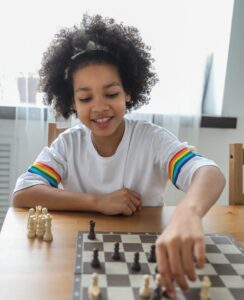 NASP recommends promoting resilience in order for children to overcome challenges and maintain good mental health. The American Academy of Pediatrics has identified the seven C's of building resilience in kids, including competence and confidence.
Competence is "the feeling of knowing that you can handle a situation effectively". According to the AAP, adults promote competence by helping children focus on their individual strengths and empowering them to make decisions.
Competency allows children to believe in their own abilities, which leads to having confidence. Other ways of building kids' confidence include authentically praising specific achievements and not pushing them to take on more than they can realistically handle.
Making Them Physically Healthy
We must pair good mental health with good physical health. Encouraging positive eating habits and regular exercise helps protect kids from stress and negative emotions.
According to HelpGuide's "Healthy Food for Kids", the sooner you introduce nutritious choices into children's diet, the easier they'll develop a healthy relationship with food. The article provides great suggestions, including how to avoid foods that impair children's mood.
The pandemic impacted the way we do pretty much everything, and how kids exercise was no exception. COVID-19 lockdowns forced kids out of schools — pushing them inside their homes glued to screens. But now that vaccinations are readily available and restrictions are being lifted, parents should encourage kids to explore the outdoors.
Outdoor time can be a great stress reliever for kids. Safety's recent guide, "Less Screen, More Green: Outdoor Safety Tips for Kids" provides families with the best practices nowadays for going outside to play. The guide suggests parents start small — with a family bike ride or a nature hike — and then transition their kids to more social settings. Children will need extra support and guidance as they begin to reacquaint themselves with others.
---

MedEZ is taking part in Mental Health Awareness Month by sharing key resources from established organizations and researchers in the mental health industry. Follow us on social media to stay up-to-date with our latest posts!
Checkout our last blog post "Growing Up During A Pandemic: COVID-19's Impact On Youth Mental Health."
Written by Natalia Clement for medez.com