After more than a year of being in the frontlines of the pandemic, healthcare workers have had to deal with strong emotions — such as stress and anxiety. The Centers for Disease Control and Prevention emphasizes the need for healthcare workers to recognize what stress looks like and take adequate steps to cope with it.
How The Pandemic Added To The Industry's Stress
Stress from traumatic events impacts each individual differently. In August of 2020, the CDC released a study suggesting that "younger adults, racial/ethnic minorities, essential workers, and unpaid adult caregivers" experienced worse mental health outcomes during the pandemic. Without the proper precautions, healthcare workers can experience significant distress, including acute stress disorder and post-traumatic stress disorder (PTSD).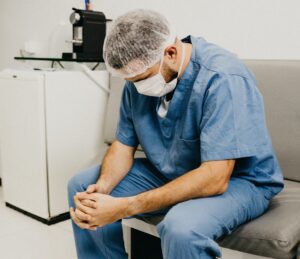 According to a study published in the Psychiatric Research journal, "healthcare workers in emergency care settings are particularly at risk for PTSD because of highly stressful work-related situations." These include managing critical medical situations and frequent witnessing death and trauma. The study adds that PTSD rates in healthcare workers range from 10 to 20%. Intensive care unit staff members report even higher rates of PTSD.
The pandemic has exacerbated their exposure to high stress. This is due to unprecedented numbers of critically ill patients and high mortality rates. Although we are arguably past the worst parts of the pandemic — thanks to public health campaigns and mass vaccine roll-outs — the long-lasting impact on mental health is still concerning.
Long-Standing Pressure Within The Work Culture
According to the Psychiatric Times, even before the pandemic, "burnout and depression was found to be more common in physicians than in the general population." The article elaborates on the work culture within the healthcare industry, including the stigma attached to mental health. The industry is described as being competitive, with many physicians devoting themselves to others. This "can get in the way of [their] own self-care." 
The author continues by describing the pressure healthcare workers put on themselves to be "the picture of health." The article adds that the culture within the medical field often "discourages admission of health vulnerabilities", fostering a "toughing it out attitude rather than a help-seeking one."
How to Cope With Work Stress
The CDC recommends the following guidelines on how to cope with stress and build resilience:
Communicate With Others
Communicate with your coworkers and supervisors about job stress.

Identify factors that cause stress and work together to identify solutions.

Ask about mental health resources in your workplace.
Work On Self-Care
Identify and accept those things which you do not have control over.

Increase your sense of control by keeping a consistent daily routine — with adequate

sleep

, exercise, healthy meals, and rest.

Spend time outdoors either being physically active or relaxing. Do things you enjoy during non-work hours.

Take breaks from watching, reading, or listening to news stories, including social media. 

Engage in

mindfulness techniques

, such as meditation.
The Psychiatric Times also suggests institutional changes that may help healthcare workers manage stress and other mental health issues. A key change includes understanding the root of the stigma surrounding depression and other mental illnesses. The article suggests that institutions need to "openly discuss depression as a treatable biologic illness and offer time and resources for treatment."
Supporting our healthcare workers goes beyond a round of applause during shift changes. We can better address their needs as a society by acknowledging the mental toll their work puts them through.
__________________________________________________________________________________
We've covered the impact that the pandemic has had on mental health, including Growing Up During A Pandemic: COVID-19's Impact On Youth Mental Health and Funding Aims To Mitigate The Pandemic's Impact On Mental Health Services. Read more from our blog.
June is PTSD Awareness Month. For more information on how to raise awareness, visit the U.S. Department of Veteran Affairs website. 
Written by Natalia Clement for medez.com
Graphic provided by Mozzaz.