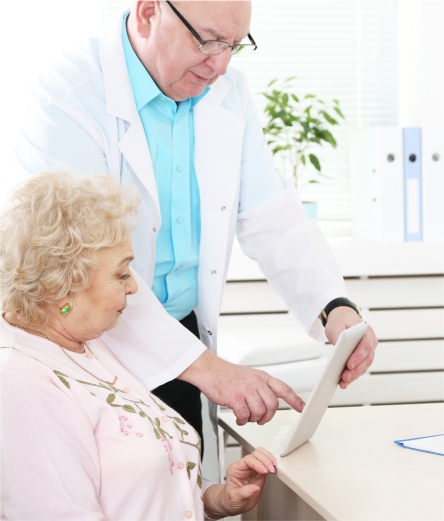 MedEZ™ keeps your rural health clinic HIPAA-compliant with customizable checkpoints including Attendance checks, Therapist notes, automated charge sheet calculator, Reimbursement pricer, and Reports. These healthcare reports and the billing software help administrators to monitor billing. Permission assigned by the management determines which user has access to which screens. Because our rural health clinic software is custom-designed for your clinic, items like Status Code, ICD-9 and ICD-10 to Comorbidity Assignment, Admission Form, and Pre-Hospital Living Setting are included.
MedEZ™ for rural health clinics creates an easy to use practice management environment which enables you to complete the following tasks effortlessly:


Certifications and licenses are easily tracked
MedEZ™ makes HIPAA-compliance simple
Scanning, saving, and arranging files of varying file types into MedEZ™ healthcare software are a painless task.
Retrieving EHRs and other healthcare information is simple by the use of tabs such as the insurance tab which includes screens on Medications, General information, Allergies, and Prior Authorization.
Therapy notes are printable with patient's name, electronic medical record number, and treatment plan, and other therapy information to make the management of written notes simple.
Flash reports give administrators an outline of the day, week, month, or year.
Easy admission and discharge of patients from your rural health clinic.
MedEZ™ healthcare software has inventory control capabilities that are easy to use. Enter inventory items for initial database setup and then, management of inventory quantities is simple. The MedEZ™ healthcare software can generate alerts for inventory items that run low. The user can create and receive purchase orders, and MedEZ™ updates the healthcare facility's database accordingly.

MedEZ™ rural health clinic software makes it simple to enter patient healthcare information and admit them into the health clinic and include information such as admission and estimated discharge dates, what program patients are in, their chart number and room assignment. MedEZ™ easy-to-use software allows you to assign rooms and check room availability so that you can track patients. You can use the customizable clinical notes software for management of notes on each patient daily or you can choose to manually check attendance and therapy services patients have received. MedEZ™ is customizable so your clinic can create programs for each of the tracks/programs. Each therapy has its own code which is used to automatically create and calculate a bill. Once the patient has been discharged from the clinic, they need to be discharged in MedEZ™ as well. Then, any remaining charges can be added to the charge sheet and the patient can be billed.
Facility management is made simple using MedEZ™. We include a screen that lists all patients within the rural health clinic which can be filtered for only active or only unbilled. From this screen, the billing software such as the Pricer and the charge sheet can be accessed. The reimbursement pricer is available anytime during the patient's stay to calculate the highest reimbursement rate for any admission.

With MedEZ™ electronic medical billing software your charge sheet will be easier to create than ever before. An automated charge sheet calculator is generated and prices are stored, thus eliminating tedious price lookups. Based on the length of the stay, daily notes, and/or attendance checks, room charges and daily charges are already calculated. This feature of MedEZ™ rural health clinic software is easy to use and customizable so you can add items such as pharmacy, lab, and supply charges. Once everything is listed on the charge sheet the billing software can be utilized by clicking on the "Generate Claims" button and batching the charges to create an electronic claim.

The HIPAA-compliant billing software displays what payments have been posted by whom and the current balance. The MedEZ™ rural health clinic software package includes an official printable patient statement, CPT Activity screen which shows how much was billed for each procedure, among many other screens, reports, and printable templates.
MedEZ™ for rural health clinics has many different useful components including:


Goals and Objectives Software Module- this medical interactive software lets you create objectives for patients, take notes, and print reports. (Not contained in the clinical software package).
Transportation Billing Software Module- aids in management of patients' bills for transportation by referencing attendance and services records.
Template Letter Software Module.
General Ledger Export- allows clients to export data from MedEZ™ healthcare software to accounting software like QuickBooks or Great Plains.
Electronic Billing Software Module
Replication Software Module
Clinical Software Module- is secure medical software that includes in the Clinical Software – Progress Notes/Attachments module. Additional healthcare documentation like treatment plans, nursing assessments and discharge are included.
For more information on how to become a part of the family of the Doctors, CMHCs, CORFs, ORFs, Hospitals, IPFs and IRFs around the nation using MedEZ™, please contact us.