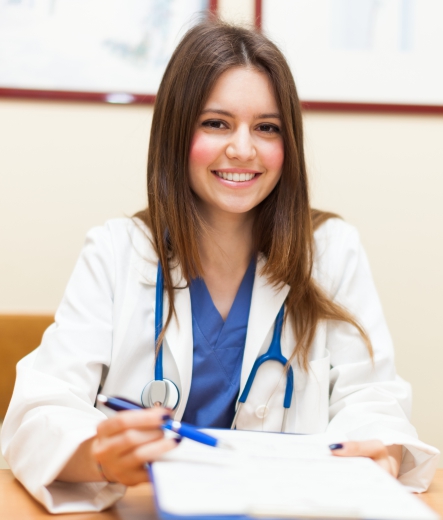 A Must Have For Correctional Facilities
MedEZ's™ Detainee Healthcare Software was developed to be customizable and easy to use with your administrators in mind. With HIPAA-compliant accuracy and simplicity, the MedEZ™ healthcare software helps with the management of your correctional facility's medical office through our unique collection of appointment scheduling software, billing software, electronic health records, and reporting.

By automating your detention center's or correctional facility's operations, your facility's daily efficiency will increase as your employees will be able to demonstrate a much greater productivity by focusing their time on the detainees, and not paperwork. Electronic health records have also been integrated into the system so that you are able to get a full detainee profile, scheduling, and EHR all in one complete package. With all other features offered by MedEZ™, our system will be the only one needed to run your facility in the most efficient manner!
Employee and Detainee information is easily entered and monitored using the MedEZ's™ Correctional Facility Medical software. Employee healthcare certification and user security levels are tracked and maintained at the click of a button. Detainee information and Electronic Health Records are easily retrieved through the use of filtering, tabs, and buttons. You can filter lists by beginning to type or by clicking on the information that you would like to sort by.
Detainee information and Electronic Health Records are handled with our easy to use healthcare software which includes features such as:
Detainee Admission:

Security Level
Chronic Diseases
Alert Messages
Alert Messages

Detainee Discharge
You will find that the MedEZ™ appointment scheduling software is capable of more than just scheduling such as our customizable calendar resources which are easy to use. You can select different calendar resources and the number of days that you would like to display on your screen. With MedEZ's™ appointment scheduling software, you can also keep track of attendance by checking detainees into the MedEZ™ healthcare system when they arrive for an appointment. Admitting a detainee into your healthcare office using MedEZ's™ Detainee Healthcare software is as simple as double clicking on the appointment block and checking the Patient Showed Up box. Appointments can be rescheduled and moved to different healthcare providers by a simple drag and drop function.

To schedule a group of detainees for appointments at one time simply select the patients and enter the appointment type, date, time in and out, and the doctor/healthcare provider. MedEZ™ healthcare software is customizable and information can be changed for each individual detainee or you can remove a detainee from the list. MedEZ's™ appointment scheduling software also contains the easy to use Task Pad which allows you to easily create new tasks and To Do's. Adding a task does not affect the scheduling of appointments. The management of your tasks will be seen by all users in order to help your staff with items that they may be working on collectively.
Reporting is easily done with MedEZ™. MedEZ™ uses admission dates to create reports. Our HIPAA-compliant reporting software is easy to use by simply completing the Date From and Date To fields.
You can create various reports as follows:
Appointment Type by Doctor
Facility Workload
Detainee List
Detainee Labels
TB Clearance
Alert Messages
14 Day Physical Review
Allergy Types
Chronic Disease
Work Clearance
Special Needs
The Reports Menu displays all of the different customizable healthcare reports that are available for MedEZ's™ Correctional Facility Medical Software system.
For more information on how easily MedEZ™ can integrate with your facility, please contact us